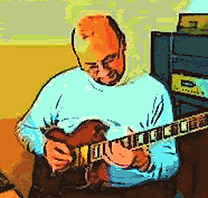 Welcome to songsofdave.com
… a website to showcase songs written and recorded by existential-ponderer, spiritual fictionist, singer/songwriter, guitarist, former Hare Krishna organisation member (Divyasimha Das, 1980 – 94), vegetarian of 35+ years – David Kingston  … more
David's songs are generally confessional or observational in nature, sometimes comedic / ironic, mostly of philosophical or theosophical subject-matter, … often in the form of imagined dialogue with God … latest songs here
Naked You
Songs Of Dave

[Verse 1]
Stop think again this not what seems
Question certain review belief
Draw back curtain welcome the light
window open, open your eyes
[Verse 2]
Pierce blinker worn conditioning
Curse social norm from birth absorbed
Peer prejudice, parental baggage
Stop ask yourself what lies beyond?
[Chorus]
How much survives, […]
Fallen Soul – Child Of God
Songs Of Dave

[Verse 1]
Fallen soul, where begin?
Born of original sin?
Banished here, fall from grace?
Curse to wander, no escape?
[Verse 2]
Fallen soul, sinful black
Cast asunder, no way back
Hope and pray saviour save
A point of view entitled to – cannot embrace
[Chorus]
Oh […]
Jango Internet Radio – 1200 Fans and counting