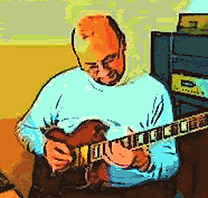 Welcome to songsofdave.com
… a website to showcase songs written and recorded by existential-ponderer, spiritual fictionist, singer/songwriter, guitarist, former Hare Krishna organisation member (Divyasimha Das, 1980 – 94), vegetarian of 35+ years – David Kingston  … more
David's songs are generally confessional or observational in nature, sometimes comedic / ironic, mostly of philosophical or theosophical subject-matter, … often in the form of imagined dialogue with God … latest songs here
What If There Is No Test?
Songs Of Dave

[Chorus]
Why we here predetermined by someone else
Goal of life for human birth believe prescribed
Sets the stage for judgement pass who squander chance
But what if truth is up to us how divine express – there is no test?
[Verse 1]
Read your books […]
This Is Big
Songs Of Dave

[Chorus]
This is big: Divine Design
Players cast from cosmic pool
As souls aspire experience / explore
So brought together here by providence
This is big!
[Verse 1]
My parents desired to shower love in their own special way
I wanted to bathe in precisely their type of […]
Jango Internet Radio – 1200 Fans and counting